A MALA DA NOITE (THE BAG OF THE NIGHT) - STORY BOARD, 2022 / 2023
Experimental documentary in development | Super 8mm, 16mm and Digital70'

Owner of the highest feminicide rate in Brazil, the tiny town of Barcelos is located on the banks of Black River, lost amidst the idyllic landscape of the Amazon rainforest. The experimental documentary The Bag of the Night unveils the presence of ghost women who continue to inhabit this piece of land. It proposes to give form through cinematographic image to the interactions of the invisible with the visible that hover and drag in Barcelos, and to the violent and sweet reality of this small concrete village built in the middle of the abundant, uncontrollable and unavoidable jungle. The Bag of he Night is a portrait of a hallucinating docile, idyllic, and violent profound Brazil, where violence and dazzle merge daily with enchanted beings and packs of unowned dogs that take over the streets at night, transforming the city into a post-apocalyptic scenario where animals, creatures, and ghosts wander inside the open suitcase of the night. A collision of violences, the film will be a portrait of what the friction of nature with so-called "civilization" produces. It will exist as a kind of spell-film, discussing the power that image possesses and throws as a tool for experimental change.

ESPADACHIM (FENCER), 2022
Installation | Glass and fire | 158 x 10 cm

For some years now I have been imagining how an encounter between Ícaro and Justine would be. Ícaro being the one that after scaping the Minoutaur, with wings made of wax and feathers, plummeted for flighting too close to the sun. I always have the Pieter Bruegel painting, Landscape with the Fall of Icarus, as a spectrum in my mind and in my work. And Justine, being the Justine from Sades's The Misfortunes of Virtue. In the end of the book, Justine dies traversed and penetrated by a lighting strike that pierce the window glass where she is staring to the nothings. Espadachim is the portrait of a shadow, wings in the abyss and a letter exchange between both of them.


PSICOGEOGRAFIA CANINA (psychogeographic canine drift)
Performance after the The Situationist International proposals to let one drifts after non humans creatures | 2018
@Théâtre Nanterre-Amandiers – Festival Mondes Possibles – 60th anniversary of May 68, Paris
CIVILIZAÇÃO: prancha de pirata (civilation : pirate plank)
naval wood
50 x120 x170 cm | 2015
@Observatório - Hipótese e horizonte, São Paulo

FOGUEIRINHAS (Little fires)

Iron and heather | 2016
CAVERNAS & TATUAGENS (Caves & tatoos)
tatoos, clay and Elvis Presley's sad and distorted love songs playlist
150 x 60 cm | 2018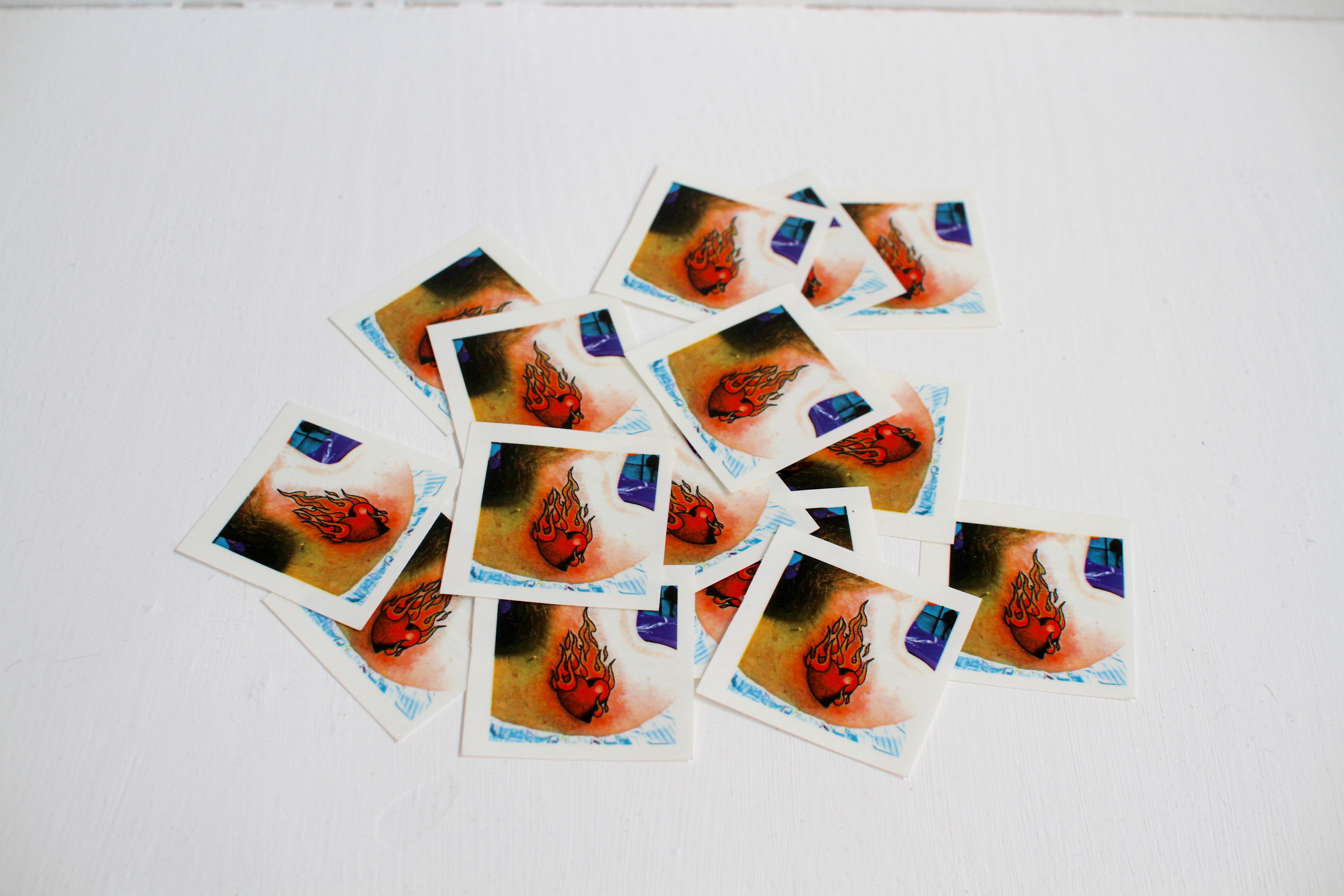 ELEFANTE (Elephant)

chumbo e janela
130x70 cm | 2015
FERRO (iron)

lamp, electric wires, coton, carbon paper and black ink
2014
CIVILIZAÇÃO (bombinhas) (fireckackers)
coal and aluminum
2015
NOTÍCIAS DO FIM DO MUNDO (news of the end of the world)
2013 pop movie frames about the end of the world
laser printing on newsprint paper - variable dimensions according to the layout of images of the newspaper "Folha de São Paulo"
2015




MÁGICA (magic)
with Aurore Zachayus e Pontogor
@Festival VERBO de Performance - Galeria Vermelho, São Paulo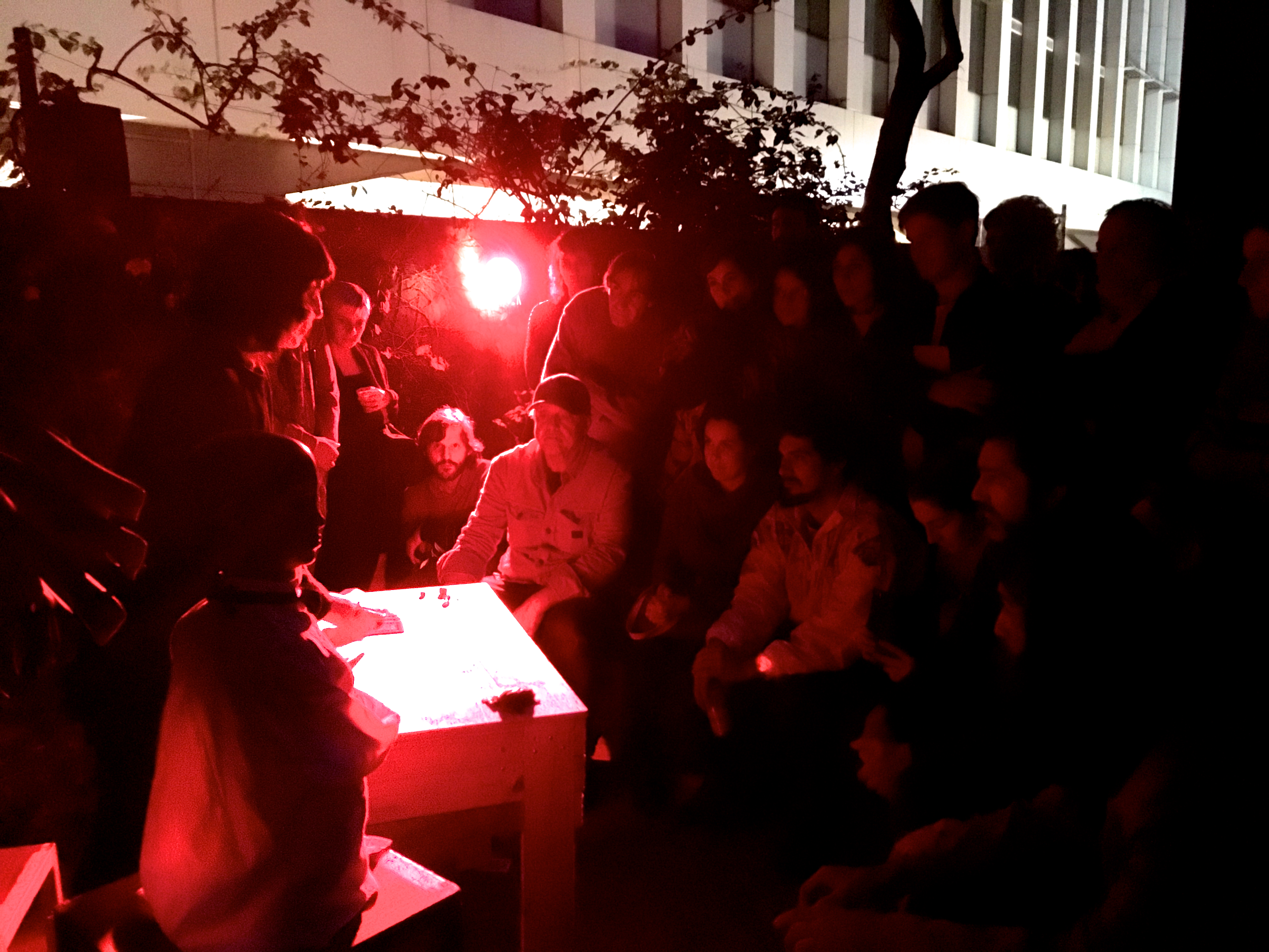 FLORESTA (forest)

iron, photography and bone
2017
@Museu do Esquilo, Ibiuna
ANUNCIAÇÃO - O FUTURO JÁ COMEÇOU (Annunciation - the future has already begun)
Fireworks fired daily during the exhibition period
2015
@Observatório - Hipótese e horizonte, São Paulo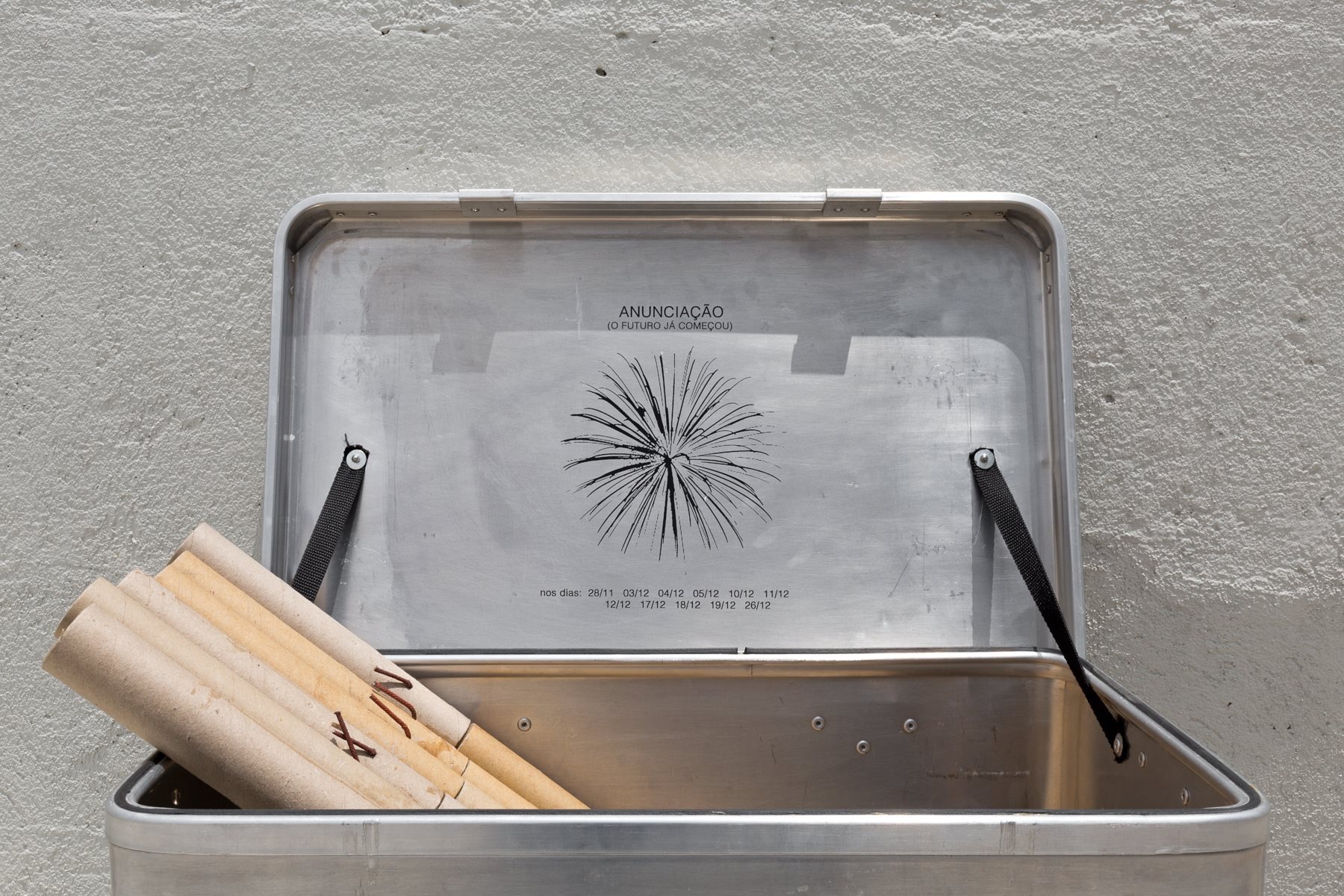 LOBISOMEM (Werewolf)

video, iron plaque engraved and industrial minig scale
2016
@Museu de Arte da Pampulha, Belo Horizonte
O ESQUECIMENTO COMEÇARÁ PELOS TEUS OLHOS (forguetess will start with your eyes)

Retroprojector, microphone and stamp
2015



FARANDOLE
sound composition and mettal letters
2016
@Permanencias e destruições - Torre H, Rio de Janeiro


AVISO DE INCÊNCIO - TOBOGÃ ONDE DE FOGO (fire warning)

tobogã inflável usualmente utilizado em festas de confraternização dos bombeiros de Curitiba
700x500x500cm | 2015
@Red Bull Station, São Paulo
CRIATURA - creature exhibition Overview

2 projected videos, photo slide and reclining wood flooring installation
2016
@Oficina Cultural Oswald de Andrade
em parceria de Pontogor